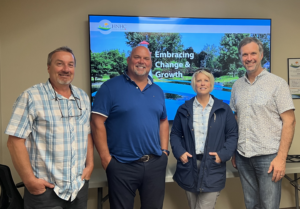 Partnering to bring new Affordable Housing to our Community. 
 HNHC awards RFP for a Development Consultant for a new Affordable Housing Development to be built in the Frank Marshall Business Park, Ramsey Drive, Dunnville to Flourish Affordable Housing Communities.  Flourish is a provider of development services to clients pursuing affordable housing and social-purpose projects.  The development arm of Indwell, a Canadian leader in developing new affordable and supportive housing, the Flourish Team's expertise has played a key role in the development of over 1000 households with a creative and collaborative approach to outcome-focused project management.
 Pictured for the project kick-off on June 12th is (l-r) Marc Puype, HNHC Technical Services Manager, Matt Bowen, HNHC CEO, Deb McKenna, Flourish Project Manager, and Graham Cubitt, Flourish President.