Care Haven Healthcare, Liver Care Canada, and the AIDS network have partnered to provide mobile services throughout our community.
Care Haven Healthcare and Liver Care Canada provide mobile rapid Hepatitis C testing and education. A simple test can determine if someone has Hepatitis C, a treatable disease of the liver caused by contact with the blood of an infected person.
The AIDS Network provides mobile support, education, and harm reduction for individuals who are HIV positive or suffering from AIDS.
Working together, these organizations have visited three of our buildings recently.  Residents who wished to participate or learn more about the organizations were able to meet with Suzanne of Liver Care Canada and Jamie with the AIDS Network (pictured below).
HNHC values partnerships such as these in support of our residents and the community at large.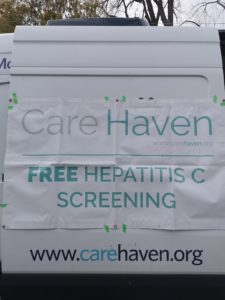 "Alone, we can do so little; together we can do so much."  Helen Keller
The Haldimand, Norfolk & Brant Counties Shoebox Project is holding their annual drive until December 10, 2021.  "This year, we will not be collecting physical shoeboxes, instead, we will be accepting $50 gift cards and handwritten notes," reports local coordinator Kylie Vandendool.
The Shoebox Project was founded in 2011 in Toronto by four sisters.  The first holiday season their goal was to collect 156 Shoeboxes with gifts for women impacted by homelessness and living in a local Toronto shelter.  They ended up with 400 shoeboxes that year.
The organization has grown and while their primary focus is still working with local shelters they deliver gifts and donations to any community service agency that serves women who are homeless or at-risk of homelessness.  In 2020, local chapters in Canada distributed over $1million in gifts.
This organization has been providing gifts to the residents of Quetzal Family Homes (our Transitional Housing building in Simcoe for women and their children who are escaping domestic abuse) for several years now and will be dropping off gifts for the current residents the week of December 13, 2021.
If you would like more information regarding this great organization or would like to make a donation, please visit their website:
https://www.shoeboxproject.ca/chapters/haldimand-norfolk-brant-counties